Heart Following the Will; Busy yet Content - 6/10/06
finally can steal a moment to upload the pictures my friend just sent me. I'll let the pictures tell my "FIFA story".
Good to see a Chinese face
Leaving hand prints with maestros
Both Chinese and English names filed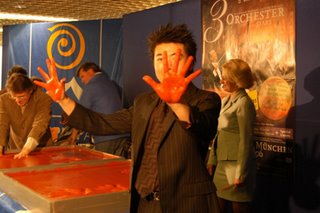 I like the lucky red in the year of dog- the year i was born
A quick meal - daddy's always there for me
At rehearsal
With Mehta, Domingo at a press conference
We're all soccer fans!
The combination of soccer and music is marvelous.
Music lightens the holy soccer field, like a rainbow to the sky.
Music conveys morale and energy to the players and feels the happiness and sadness with the fans.
It is a song of victory to the winner and a lullaby of comfort to the defeated.
No matter one walks out of the field with hyper excitement or a whispering sigh,
everyone is captivated by the magic of soccer amplified by the music they hear.
Original post written by Lang Lang @ blog.sina.com/m/langlang on 6/10/06
Translate: Harpplayer & Gnol